Back home again for all of two full days before we head out to a bluegrass festival in Pennsylvania. That means a good 3 or 4 hours of knitting time during the drive to and from the fest. I really appreciate being a knitting while on these long trips we make for the band. Seriously. I don't know how I would survive for 4, 5, 6, or more hours sitting in the backseat of our minivan packed like sardines in a can with equipment. ::shudder:: Awful.
So.... in the many hours that I sat content in the backseat with my knitting projects I began to give some serious consideration to the next tattoo I was planning. For a while now I have been thinking that I wanted to proclaim my love of knitting with some ink. My original idea had been to take the traditional skull and crossbones and make it relate to knitting by using needles instead if the bones. You can see some designs like this on Cafe Press (awesome site). Along with fairies and dragons, skulls have always been one of those things that I'm attracted to. Don't know why. But regardless of that.... I searched around online at different tattoo sites, knitting sites, and other random places for something that would spark an idea for the skull and knitting needles. However, I wasn't reallt thrilled with any of the possibilities that I was coming up with. That's when we arrived in Maryland....
During the gigs we had around Maryland we stayed with my mother's Aunt, Uncle, and cousins. At some point tattoos popped up into conversation and her Uncle mentioned someone by the name of Snakeman doing tats in the area. This got me and V (mom's cousin) thinking about what we wanted to get done next. Before long the joking about Snakeman had spiraled into serious tattoo talk. Two days later, on the morning that V wanted to go over to Snakeman's, I woke early to see if there might not be something that I really wanted tattooed. I'd picked out several small designs with V, but hadn't found anything that made me stand up and shout. My mind was still set on getting something knitting related and wasn't letting me give up. That was when I pulled up some knitting tats that looked like a ball of yarn with needles stuck through it. ok. Good idea. Then I clicked on the Domiknitrix site and saw her heart shaped yarn ball with needles. Cool! Unfortunately for me my laptop wasn't hooked up to any printers so I sat down and drew my version of the logo. You can see the result below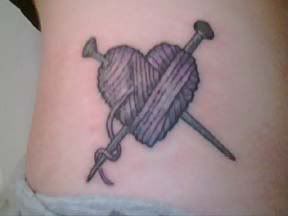 Me, V, and my younger sister all headed over to snakeman's in great anticipation. I figured I may or may not get anything done depending on how busy it was. My opinion was that V should get her tattoo and I could always have mine done when I got home. That idea was scrapped when we got there, though. I ended up getting my tat done, and V didn't. Mine new ink is on my side just barely above my pant line. I'm not afraid to say it hurt! My only other tattoo is a fairly large butterfly on my shoulder blade, not a super sensitive area. The hip..... sensitive. It was worth it though. The pain only lasts just so long and then you have a piece of art with you forever. In this case I also have a good story from being on the road. My knitting tat may not be everybody's cup of tea, but it represents something I love. And that makes it great.